3:53 PM Wednesday Sep 17, 2014
A bewildered bird has entered into a very one-sided relationship after falling in love with its own reflection.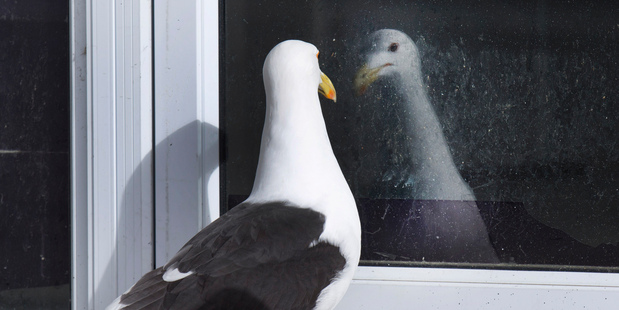 A seagull pecking at its own reflection
on a tinted-glass door of a disused factory
in Waikanae on the Kapiti Coast.
Photo / Mark Mitchell
The narcissistic seagull has taken up residence at an abandoned building on Omahi St in Waikanae on the Kapiti Coast, north of Wellington.
Carolyn Mitchell, owner of nearby business The Pantry, said the seagull has been there for the last two days, tapping at its reflection all day long.
Ms Mitchell said at first she thought the seagull might have had a mate trapped in the abandoned building.
"But then we realised no, he's actually seeing his reflection, and it is like he thinks it's a mate and he is actually trying to get food in there."
The bird had also begun to gather things to build a nest, Ms Mitchell said.