Last updated Fri 28 Feb 2014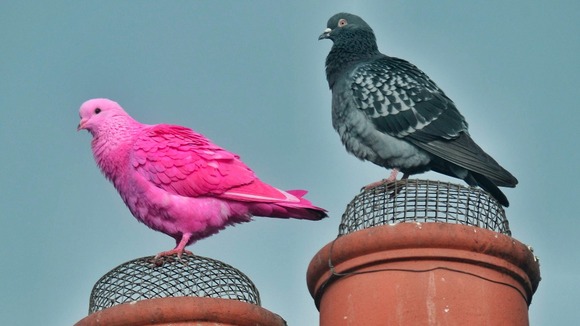 In the pink: has this bird been dyed? Credit: North News
A bright pink pigeon has been spotted on the rooftops and in the skies, over Darlington in County Durham.
As the photograph above shows, its efforts to blend in with its grey cousins has proved futile.
And the sight has shocked and puzzled people who have seen it.
One dog-walker said: "I just couldn't believe my eyes. For a moment I had to look again, and again, just to make sure I wasn't hallucinating."
However, the RSPB believe it may not be a pigeon at all.
It is not a new species, but could in fact be a dove that has been dyed pink and then released during a special event.
But instead of returning to its owner it has broken free and made new friends in the pigeon world.
And for that, it is probably tickled pink.