Big things are happening on Rotoroa, a new sanctuary for endangered species that aims to create a whole new ecosystem
Tuesday 21 April 2015 22.00 BSTLast modified on Wednesday 22 April 201517.25 BST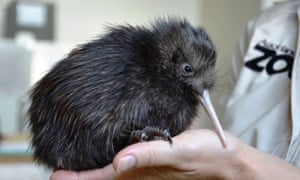 Auckland Zoo conservationist holds the first
North Island brown kiwi chick to be released
on Rotoroa Island. Photograph: Auckland Zoo
Rotoroa Island, off the coast of
New Zealand
is tiny, at just 82 hectares (200 acres), but don't let its diminutiveness fool you: big things are happening here. Over the past few years the island has become the site of a quiet, but grand, conservation experiment. What would happen if you populated an island with a whole suite of endangered species, some of which were never found there to begin with? And what would happen if you didn't fence the island off and keep pesky humans out, but let people – school groups even – tramp through the grounds?
Across most of our planet, truly wild, unmanaged places are a thing of the past.Onnie Byers
"We are deliberately aiming not to recreate an ecosystem, but to create an ecosystem anew," says Jonathan Wilcken, the director of Auckland zoo. "We don't frankly care very much whether those species existed on Rotoroa Island."
Wilcken's words – a shot across the bow of traditional conservation – marks just how radical and interesting the experiment on Rotoroa Island has become. The zoo has partnered with the island's private mangers, the Rotoroa Island Trust, to conduct this wild endeavour: creating a new, managed ecosystem on a patch of land rising from the North Island's Hauraki Gulf.
Wilcken adds: "Nor do we care very much if the species could sustain themselves if we weren't there to manage them."