Posted at: Jan 20 2016 12:34AM
A team of bird watchers comprising Dr Arun Kumar, a teacher at Dolphin Institute, and his student Yawar Manzoor Bhat have sighted some rare bird species. The duo have been studying various conservation issues related to the Asan Conservation Reserve in the western Doon Valley.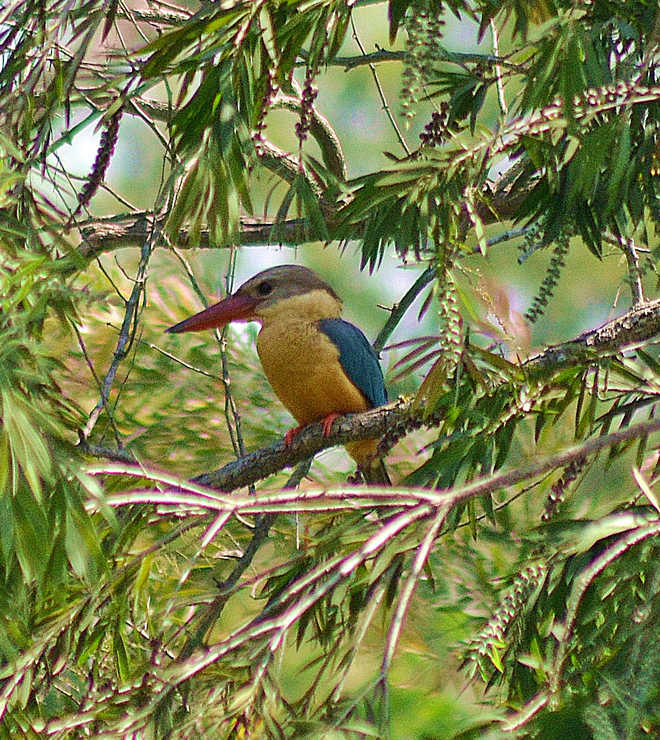 Stork-billed Kingfisher sighted at the Asan
Conservation Reserve in Dehradun district.
Tribune photo
During 2014-15, the team witnessed a wide diversity of waterbird population at the conservation reserve. Many avian species were counted and observed in a big number at the reserve for the first time, indicating a positive interaction between the biodiversity and the habitat used by them. Some important events reported during the year were the congregation of a large number of bar-headed geese, painted stork and Pallas's fish eagle that was sighted again.
Another rare species, stork-billed Kingfisher, was sighted at the right hand lake at the Asan reserve stalking its prey. In the past, the Forest Department had reported one or two occasions about its sporadic presence around the reserve. However, no official observation has been done. The earlier species counts and avian checklists by PC Tak and JP Sati (2003) and the avian checklist provided in the Asan Conservation Reserve Management Plan, as well as the bird counts by the Forest Department from 2009 to 2014 do not include this species. The authors sighted stork-billed Kingfisher for the first time in March 2015 and again in January this year. A male Kingfisher was also photographed by Yawar.