Wednesday, July 6, 2016, 07:00 by
Emily Beament, Press Association
An "awesome foursome" of osprey chicks have been reared in a single nest, in what conservationists say is a rare event for the bird of prey.
The chances of four chicks hatching in the nest at KielderWater and Forest Park, Northumberland, were put at 100 to one - but their arrival was part of a successful year for theKielder Osprey Project, experts said.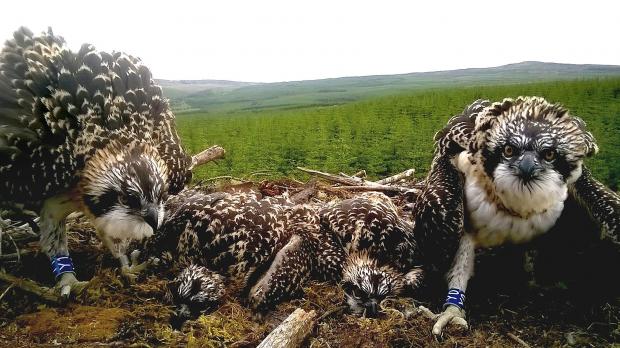 The Forestry Commission's wildlife team is ringing at least 10 five- to six-week-old osprey chicks, which already have a wingspan of around a metre, before they fledge, as well as making health and other checks.
The four youngsters sharing a single nest - a new site which uses a platform set up by the Forestry Commission team for the birds of prey to breed on - were the first to be ringed and are in very good health for such a large brood.
One chick is being fitted with a tiny satellite tracker to help wildlife experts monitor the birds more effectively.
The fish-eating bird of prey migrates from Africa to breed in the UK each summer and has an "amber" conservation listing because of historical declines due to persecution and low breeding numbers.
It vanished as breeding bird in England in 1847 and in Scotland by 1916. But, in the 1950s, it recolonised Scotland where there are now about 200 pairs.
Birds have also recolonised or been reintroduced to parts of England, such as the Lake District and Rutland Water in the East Midlands.
The species only returned to Kielder, England's largest working forest and the biggest man-made lake in northern Europe, in 2009 after an absence of more than 200 years, the Forestry Commission said.