Darwin's mistake among exhibits in show on birds' cultural impact at Norwich Castle Museum and Art Gallery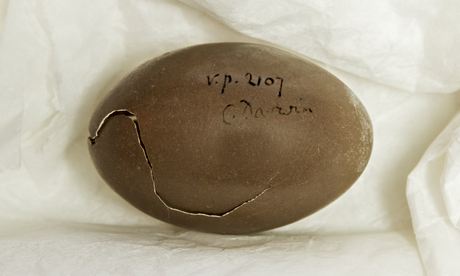 An egg mistakenly cracked by Charles Darwin is among the items in The Wonder of Birds exhibit. Photograph: Norwich Castle Museum & Art Gallery
It is an unassuming object, a smallish, strangely glossy brown egg, and it is broken because of the carelessness of the last person you would expect – Charles Darwin.
"He squashed it into too small a box and it cracked, unfortunately," said curator Francesca Vanke, explaining the state of the spotted tinamou egg going on display at Norwich Castle Museum and Art Gallery.
The object is the only known surviving egg from Darwin's HMS Beagle voyage during the 1830s. Probably drawn to its glossy sheen, Darwin signed it C. Darwin and brought it back to Britain after collecting it in Uruguay.
"It is a coup," said Vanke, "but we have lots of coups."