England's only resident golden eagle is feared to have died, wildlife chiefs have said.
The bird, which occupied a site at Riggindale Valley, near Haweswater in the Lake District, has not been seen since before the turn of the year.
It is believed to be about 20 years old but has been without a mate for around a decade.
An RSPB spokesman said it was "incredibly sad" and added there was "a real sense of loss" among colleagues.
Haweswater site manager Lee Schofield, said: "By this time of year you would have expected to have seen him on display to attract a mate.
"As the last golden eagle in England, it's an element of wildness that has gone.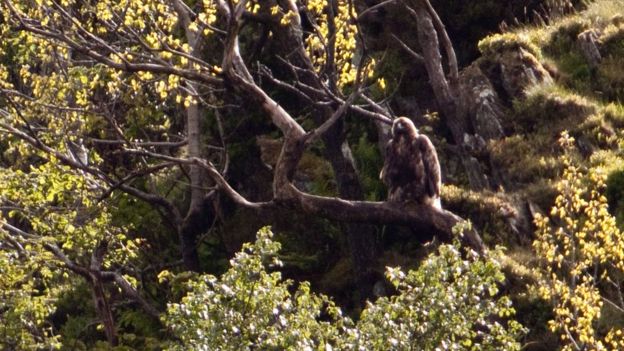 RSPB Image
The bird was pictured in 2011
"There's no real way of knowing for sure. It's a single bird in a huge landscape and he was of an age we couldn't rule out death by natural causes."
"We've not given up hope," Mr Schofield added. "It may be that he has found an alternative food source."
Golden eagles have been present in the Lake District since the late 1950s and first nested in the Haweswater area in 1969
There are an estimated 440 annual breeding pairs in the UK
Mostly found in the open moorlands and mountains of Scotland, the birds favour islands and remote glens