Stan and Ollie were dropped from a breeding programme after proving more interested in mating with each other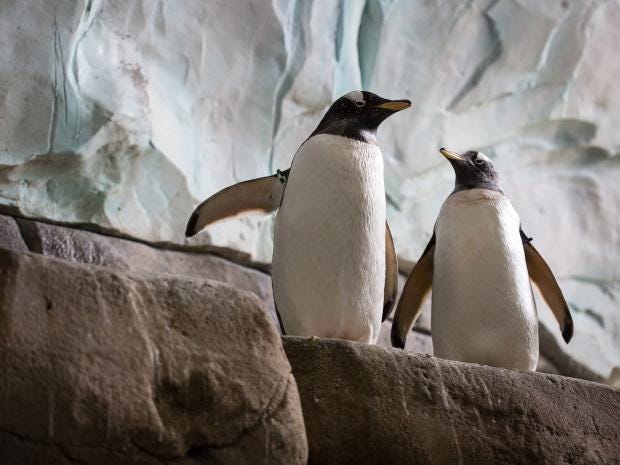 Two king penguins at Hamburg Zoo (file pic) Margarethe Wichert / Getty Images
Two gay King penguins have been moved from Berlin Zoo to Hamburg's Hagenbeck Zoo so they can be together.
Stan and Olli were originally introduced to Berlin Zoo to breed as part of the European Conservation Programme, but it didn't take long for zookeepers to realise they only had eyes for each other.
"They're gay, as far as we know. They never bred. And when it came to courtship, they only mated with one another," Berlin Zoo spokeswoman Christiane Reiss told the Local, in Germany.
Stan and Olli - who the website says will now be named Kalle and Grobi instead - will join Juan and Carlos, another homosexual penguin couple who are already at Hamburg Zoo, where they will no longer be expected to reproduce.
There are many examples of male penguins paring off with other males, especially in captivity. In 2014 two male Humboldt penguins at Kent Wildlife Park – called Jumbs and Kermit – adopted a young chick after its father refused to incubate it.
In the same year Penelope and Missy broke the mould as Ireland's first lesbian penguin couple. It is considered much more unusual for female penguins to pair up, the Irish Examiner observed.